The only thing necessary for the triumph of evil is for good men to do nothing. – Edmund Burke
I know a beautiful young lady, of heart and soul, named Amy Matney. She's a part of our family. She's not my sister, but could be. Amy treated my young teenage stepdaughter, Isabella Ehret Kayser (below), like her own daughter – in a time of darkness, confusion, death and chaos – and in that moment, she shined.
When the worse that could ever happen to a child did (Isabella's father passed away), Amy was there. She stood strong and reached out to all – even though she had no responsibility whatsoever to do so.
And because of that one tragic and sorrowful moment in time, though not related by blood, Amy became a part of our family – and always will be.  And me, having a history with good and bad stepmothers (read "The Greatest Words You've Never Heard"), her response to our little girl's tragedy makes Amy as close to an Angel on earth, to me, as could be.
NOW… THE EVIL BACKSTORY
But this particular Amy has a past. She grew up without a mother from a very young age. Any idea why? Did her mom die in childbirth? No. Auto accident? No. Cancer? No. Another type of accident? No.
Worse. Much worse. It's what nightmares are made of. Except this nightmare is real and seemingly unending.
It was a demonic, almost Satanic, act of violence that took Amy's mother away from her. People that live in Southern Ohio will remember this story. But this story is a story of all places, not just southern Ohio. A story that is timely, timeless – and horrific. A story that needs an end. And an end, if it ever happens – would be a happy ending. But Amy's story is not.
STOP THIS INSANITY
Amy's mother, Judy, was brutally murdered in 1987 by Ted Sinks (her husband at the time), a psychopathic killer (by any definition, clinical or otherwise) and a controlling, abusive, woman-beating animal. After he snuffed God's spirit out of Amy's mother, he put her in a plastic drum. Then he had a person that reported to him at the Dayton Daily News, in Ohio, help haul this drum up and bury it under freshly poured concrete in a section of the building that was undergoing renovation. A place, but by the grace of God, she probably never would have been discovered.  Amy's mother's body stayed there for quite some time before being uncovered.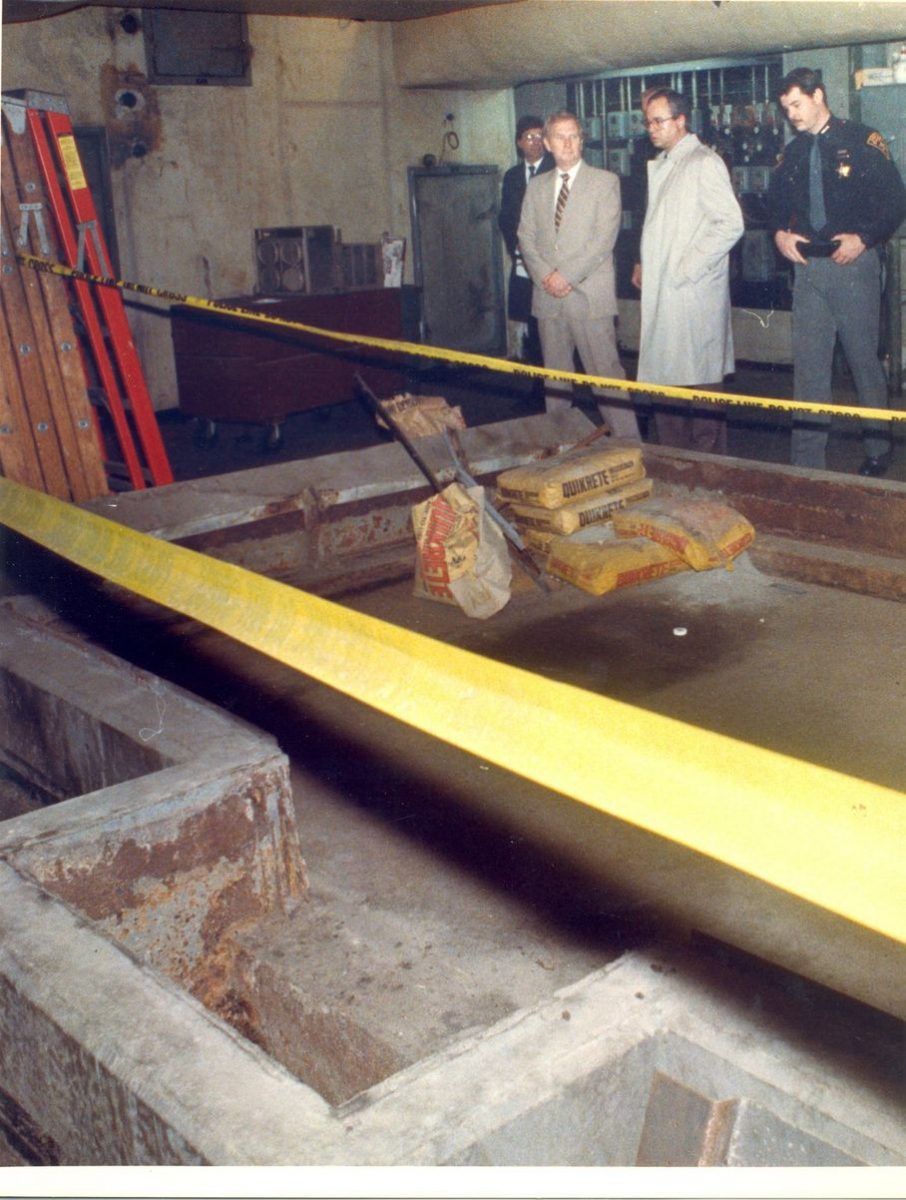 But this is no place for me to talk about that. This animal, this evil, mother-murdering scum, is up for parole right now – and must be stopped. I'll let Amy tell you why….
#NEVERAGAINISNOW
"After serving nearly 30 years for killing his wife,Ted Sink's stepdaughter, Amy Matney, wants him to remain in prison until he dies.
Sinks, 76, an ex-Dayton Daily News maintenance supervisor, has a fourth chance at parole in July when an institutional hearing is held to see if his case moves forward to the full Ohio Parole Board. An Ohio Department of Rehabilitation and Correction panel will decide whether or not to recommend Sinks' release.
"I think it's important that the parole board understand the brutality of the murder," Judy Sinks' daughter Amy Matney said Monday after a victims' conference she attended with her uncles at Michael's House in Fairborn. "Our goal is for him not to be released and, it doesn't really matter, his age at this point, or how long he's been in there. Our goal is to simply keep him behind bars."
Sinks was convicted in 1989 of killing his wife at home and then encasing her body in concrete on the seventh floor of the Dayton Daily News' downtown building. Workers used sledgehammers to crack open a concrete pedestal for a water purifying unit to uncover Judy Sinks' body. Sinks had placed his wife's body in a plastic barrel and had a subordinate, who did not know the contents, help him move it up elevators and stairs to the top of the building at Fourth and Ludlow streets.
"My mother was a beautiful, gentle, soft-spoken, loving (woman)," Matney said. "She was a stay-at-home mom and she raised us well with great work ethic and was just a beautiful lady." Amy Matney, of Englewood, urged people to recognize the signs of domestic violence and to report it to the Artemis Center at (937) 222-SAFE. "This particular case with my mother was classic domestic violence," she said. "Probably the last two years of my mother's life, I didn't see her very often. He was very controlling and (she had) several injuries before the actual murder. Probably the control and isolation are the themes that really are red flags for domestic violence."
CONTACT Hunts@mcohio.org.
Judy Sinks' brothers — Larry, Dave, Leonard and Terry Harmon — urged anyone in support of Sinks' continued incarceration to write to Victim Witness Division Director Sandra Hunt at 41 N. Perry St, Dayton OH 45422 or email her at hunts@mcohio.org. Daidone said it's important for victims' families to stay involved after defendants are sentenced.
"You have a voice. Use it," he said. "Let the parole board know that you don't want that defendant released."
Amy said the victim conferences are comforting and provide an avenue to let feelings be known, even if it stirs up painful memories.
"I think it's bittersweet," she said. "It gives me the opportunity to talk about my mom. I don't get the opportunity to do that very often. It's important that he stays in there. He murdered my mother and he deserves to stay behind bars."
WHAT YOU NEED TO KNOW
A brutal, murdering psychopath is up for parole. Eligible to be free. To breathe fresh air again. To walk the streets seeking fresh prey again. To murder another mother and leave a daughter or son to grow up alone.
The only thing necessary for the triumph of evil is for good PEOPLE to do nothing. – Edmund Burke.
Please,  I ask all friends (and even enemies) to write to Victim Witness Division Director Sandra Hunt at 41 N. Perry St, Dayton OH 45422 or email her at hunts@mcohio.org to stop this impending travesty. To stop another preventable murder by a psychopath that has no respect or empathy for human life. Never again should this murdering beast see the sun uncovered by bars, or to breathe the air unfettered by chains.
#NEVERAGAINISNOW
Never again is now. Never again should murdering psychopaths be set loose on our streets to wreak havoc, misery and evil on the innocents of our society.
TODAY … #NEVERAGAINISNOW – PLEASE STEP UP
Write to Victim Witness Division Director Sandra Hunt at 41 N. Perry St, Dayton OH 45422 or email her at hunts@mcohio.org. Stop the release of this mother-murdering monster, Ted Sinks.
Bless you Amy.
Sink Sinks. #Neveragainisnow.
Thank you,