Reported by: Recently Crushed & Compacted
"Sponge Steve Square Kilt"
An anonymous informant in the U.S. Department of the HHS (HCDOP division) just leaked a top secret memo to me. Looks like there's some deep-thinking going on in Washington about how to get out of the current healthcare reform mess. Of course I don't want this site to become another Wiki-Wacky-Siki-Dikki Leaks but I have to pass this one on.
No editorial needed … the memo speaks for itself.
DEPARTMENT OF THE HHS (HCP Division) OFFICAL MEMO 
Priority 1 Comm
522 Hart Senate Office Bldg
Washington, DC 20510
202-224-3542
In a cost-cutting & revenue enhancing move to address the sub-optimal Affordable Care rollout, and to come up with a workable solution for the perilous shortfalls in Social Security, Healthcare, Medicaid, Medicare, the EPA,  the Post Office and every other government entity, the HHS will soon announce a stunningly innovative new program called …
CASH FOR CODGERS
The CASH FOR CODGERS program has been combined with a revivified and re-instituted CASH FOR CLUNKERS program.
CRUSH AND COMPACT
Anyone can participate – the program only requires that a person turn in any codger (over 55-years-old) into any local government-owned car dealership. Codgers will then be packed into perfectly good clunkers, crushed and compacted.
BAD PR POSSIBLE … IF NOT COMMUNICATED WELL
This program may impact the used car market (slightly) and organ donations (not much though, who wants a codger organ?) but is quickly projected to pay off the national debt and balance the budget … in as little as 100 years (unless the Republicans cave again and give us 200 years to pay it off).
BE ON YOUR COMMUNICATIONS "A" GAME
When communicating the details of this program please be on your "A" game and emphasize the positive points;
HELPS THE YOUNG – takes the healthcare tax burden off the young
BALANCES & ERASES – the budget & deficit
ELIMINATES – crazy codger drivers (maybe "eliminates" is not the optimal word.)
GREEN! Gets gas-guzzling clunkers off the road
JOB CREATION – for the auto industry
REDUCES HEALTHCARE COSTS – the elderly make up the preponderance of excessive healthcare costs, after all, they are old.
AVOID THE SCOUNDRELS IN THE MEDIA
Do not get in arguments with the scoundrels on the right, the middle or anyone paying taxes (working). They will portray it as Orwellian. That's so 1984 – our opposition is laughingly bereft of good ideas or constructive criticism.
LIMBAUGH, BECK, PALIN RUBBISH! 
Worse, Rush Limbaugh and Glen Beck will make it sound like a socialist political agenda. Sarah Palin, that cold-hearted demon woman from the land of ice and oil, will say it reeks of death panels. Be assured … there are NO DEATH PANELS! RUBBISH!
DON'T BELIEVE IT?
Just turn your codgers into the local car dealer and they will be crushed and compacted. No panels involved. Much more efficient than death panels.
And if they survive the crush and compact? They will be sent to the local VA Hospital. Need we say more?
EXTRA INCENTIVE
If you turn in a codger AND a clunker before the December 23, 2014 Affordable Care deadline you will be eligible for a $65,000 cash rebate and two months free healthcare premiums.
ANY IDIOT CAN BUILD A WEBSITE
However, you will have  to do this through your local car dealership because the HHS website (https://www.healthcare.gov/) still isn't working properly.
"We know, any idiot can create and launch a professional website – but we're not just any idiots. We're the government."
The HHS website is projected to work smoothly by 2024 so be patient. No need to hurry. Besides we outsourced the rest of the new website to Iran (another secret government deal – but don't tell anyone) and the Moohlas committed to a fully-fuktioning website by early 2024. This is a historical moment in international relations for the US. You might want to add that to the positive unique selling bullet-points of the Cash for Codgers program above.
SUPER EXTRA INCENTIVE FOR TEABAGGERS AND/OR LIBERTARIANS
And, if  you turn in a codger, a clunker AND a TEA BAGGER (or Libertarian if approved by the local IRS office) you will get an immediate $65,000 dollar rebate (payable to "cash"), one year healthcare premium rebate, and carte blanche food stamps for 10 years.
BUT WAIT!
There's more! Free cellphones, every month of the year for the rest of your life! (limited to unlimited minutes.)
BUT WAIT … THERE'S MORE!
If you're actually employed, we will, in addition, throw in unemployment and disability benefits. I know that sounds stupid but …. (http://nation.foxnews.com/2013/12/12/sheila-jackson-lee-calls-unemployment-benefits-working-men-and-women) – it's the new American dream!
Besides, working for a living is highly over-rated.
BUT WAIT, THERE'S MORE MORE
And when you, yourself, turn 55-years old (official codgerdom), if you turn in a codger, a clunker, a Teabagger AND a Libertarian,  you will be exempt from ALL Cash for Codgers requirements (until 60-years-old – it's in teh small print).
More details to come. Keep on "need-to-know" basis. We don't want this to get the shellacking the Affordable Care website took simply for not being clearly unclear.
For more information contact the Department of the Posterior at 202-224-3542.
###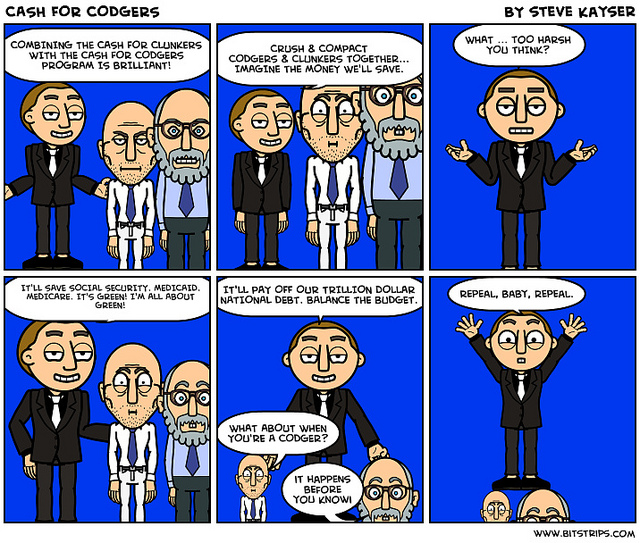 ###
HCDOP = Holy Crap Department of Posterior