It's the second most clicked on page on most websites. That's valuable real estate. So you need  to create, design and write it to put your best company foot forward.
Can you guess what it is?
Don't cheat.
EVEN IF YOU'RE DRIVING 
Think hard. That means put your cellphone down.
Take your headphones off.
Quit texting.
Even if you're driving!
DON'T LOOK!
Don't look right below this sentence where the answer is.
Think really hard.
Give up?
It's the "About, "About Us" or the COMPANY SELFIE page.
WHAT "ABOUT" IS ALL ABOUT
After reviewing a Gabazillion (that's gabazillion with a capital "G") of "About" pages I've finally  figured out what the "About" page is really all about. A lot of people assume it's supposed to tell prospects, customers, partners and passersby's what you do, how you do it, why you're different and why someone should buy from you.
Wrong.
IT'S ALL ABOUT ME
Not me per se, but you know what I mean. Most "About" pages proudly proclaim,
We're the greatest … in the whole entire world, and probably the universe!
… written in concise 92-word sentences. To understand how to craft an effective and truly great "About" page you need  to grasp one key underlying secret element –  and it's psychological.  I'll only use one highfalutin word to explain it.
BUMFUZZLEMENT
All the great ones have it. Bumfuzzlement. Every great "About Us" page  has to leave the reader intellectually;
Bubbling with bumbuzzlement
 Drowning in  discombobulation
 Shivering in salubrious solipsism
Do that and you will have attained Hall of Fame "All About Me Selfie" status. But how to do that?
DO IT CLEARLY
You have to clearly mystify everyone into thinking you think you're great. But they know you don't really think they have no idea what you really think because they think no one could think and write the way you think and write. You absolutely have to make the simple complex, the complex unknowable, and the unknowable befuddling baffling.  But, you MUST do it with such pompous, profligate, proliferating panache that the reader is totally … Bumfuzzled.
UNIQUELY TALENT-LESS TALENT
I know. It sounds easy.  But, deep down you know it hard. Using a plethora of useless  words that have absolutely no meaning and add less-than-zero value is hard. It's a talent, but a uniquely talentless talent.
BUT STEVE, IT'S REALLY HARD!
Yes it is. It's hard to string together 92-word sentences. I mean, where do you start … cutting?
MY  "ABOUT" PAGE
Only a professional "wordsmithing artiste" can do it.  Someone like me.  So, to give you a little hope, a little inspiration, I decided to use myself as an example and do an "About" selfie. I studied the master bumfuzzlers – real Renaissance Ruiners –  and culled their wisdom into an "About Me" example. But, I have an ulterior motive. I'm going to use it for a new company I've formed to expand my Thoughtless-Leadership empire. It's called the (drumroll)  …
KAYSER MEDIA'S NEW "SQUAREBALLS ENTERTAINMENT 
 The Geomerically Challenged Company That Will
Challenge the Shape of Your Mind – Seriously."
And it will (hold the applause).  Ready? Here goes…
ALL ABOUT ME
Kayser Media's Squareballs Entertainment Division is a non-leading edge, next-to-lost generation, un-scalable (but eminently sellable), not seamlessly integrated (although certainly unseemly), robusted (once or twice at most), rigidly inflexible, world class (minus the "cl"), geometrically challenged (totally true), inchoate "Thoughtless Leadership" prepubescent publishing empire dedicated to stories that challenge the shape of the mind. At least his – or anyone else that got through that sentence and thinks they know what they thought was said and can say what they thought was thought when what was said was thought.
HE ROCKS! HE SAID SO HIMSELF!
Do I rock or what?
Don't try to crib it.
I do have an open-source version you can try out if you want – but you'll have to pay me to template this one. It was a lot of work. I had to get in touch with my inner donkey-self to pull it off.
Both of them.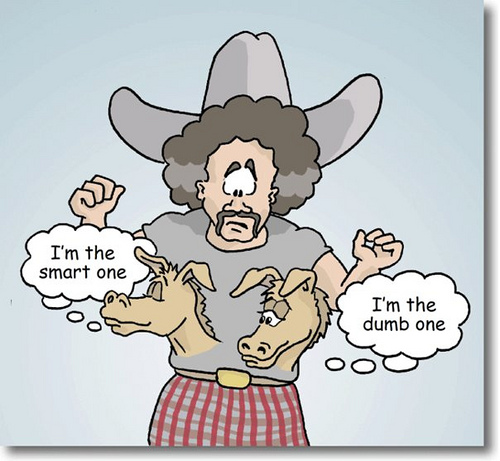 ###
All About Me Image courtesy http://www.orangejelly.com.au/